Products Of Manufacture
.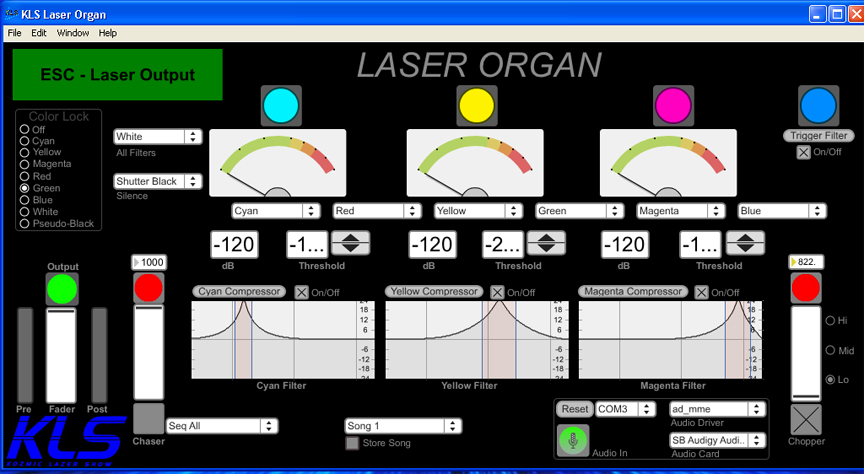 Laser Organ © 2009 by Kozmic Lazer Show - This software automates color control of a standard 3ch Color-Box or an ILDA RGB signal via a USB 2.0 controlled "Laser Organ Interface" from KLS. There are 3 fully adjustable audio spectrum filters, (20-20k). You simply shape the filters profile (Q), and slide it anywhere in the spectrum. Then you will get 7 color outputs automated in sync with any music. You can also assign what color will react to what filter, including silence or none. In the upper left corner is a region called "Color Lock"; which allows the user to use hotkeys (1 to 0) to manually play colors. There is a shutter control called "Chopper" and a color chase called "Chaser" of which, each is variable speed. With these two effects one can create limitless polyrhythms. The above screen shot is configured so that the low frequencies trigger cyan, mid frequencies trigger yellow and high frequencies trigger Magenta. If cyan and yellow are triggered together the resultant output color will be red. If magenta and cyan, the resultant color is blue. If all 3 filters are "on" (default is white) or if all 3 filters are "off" (default is black) these can be assigned to any color or state as well. All the colors are assignable and can be (if desired) saved to a "Song Store". Once you have all your songs stored, you can save all of them as a larger 'set-list' called a module. Then the user can "Tab" through the songs forward or Shift-Tab backwards. Note: "Tab and Esc" are facilitated into our program as a norm for safety and an homage to LaserMedia's Imagen and Pangolin.
.
.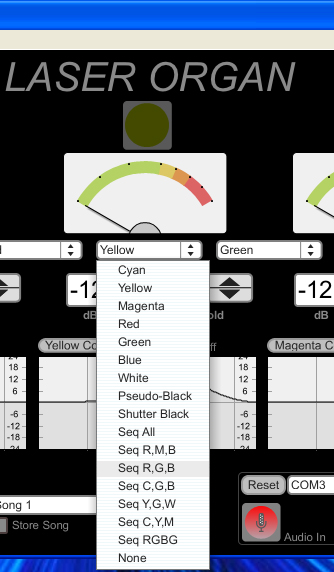 Pull Downs - Allow you to assign any color to any filter. You can also select a color sequence to loop;so each beat triggers the next color.
.
.
.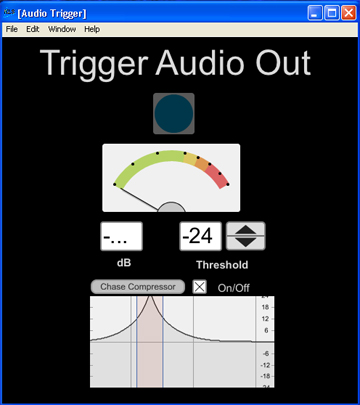 Trigger Audio Out - Allows you to set on the audio spectrum where you want a line level audio pusle (0db). This is extremely handy for triggering an external device like a lighting controller "Audio In" chase feature. Now, not only do you have color automation, but beam position automation as well. Cross your arms and enjoy the show.
.
.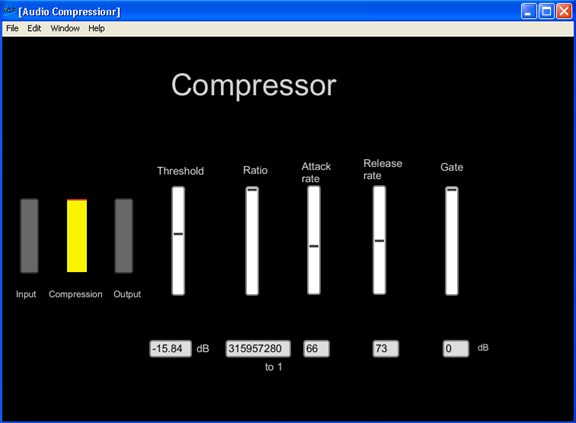 Compressor - The software has 4 internal audio compressors. Three for the color channels and one for the Trigger Audio Out. With the compressors "on" they will equalize irritating variations in song decibel levels. One song may be too loud, one too soft and the next fine. It also makes soft musical passages as interesting as the loud ones. These internal compressors prevent the user from having to manually adjust thresholds for each song. Perfect for a long night of dance bands or a permanent installation.
.
.
System Requirements - 1.2Mhz Processor, 1G Ram, 14MB disk space, USB 2.0, Windows XP, Vista, ME. To use in performance you will also need a 'Laser Organ Interface'. The manufacture recommends Dell's "Inspiron Mini10" $340+/-. It is only 2.5lbs, has a built in microphone and will sit anywhere on your control land. The "Laser Organ" software viewing screen; is optimized to fit on mini netbook screens, but is viewable on any monitor. It can also run in the background with Pangolin on the same computer; provided the computer meets or exceeds both software and hardware needs to run both.
.
.DOWNLOAD 3MB - Laser Organ 1.02 Software ....... Free Fully functional version.
$ 600 Laser Organ Interface 1, Connect from your computer's USB 2.0 port, to your Color-Box CYM Filters & Shutter. Interface includes an Audio Trigger Out.
$ TBD Laser Organ Interface 2, Connect from your computer's USB 2.0 port, to your laser via 25pin ILDA cable for RGB & Shutter control. Interface includes an Audio Trigger Out (release spring 2010).
.
.

.
IED Box / Balloon Box - This 7oz. hand held device, fires upto 100 electric matches in series configuration. Great for balloon walls and other mutli-match applications. KLS manufactures this device for LunaTech, Inc. for their PYROPAK® line of equipment. Please contact LunaTech at 256.725.4224 for pricing (Instruction Sheet).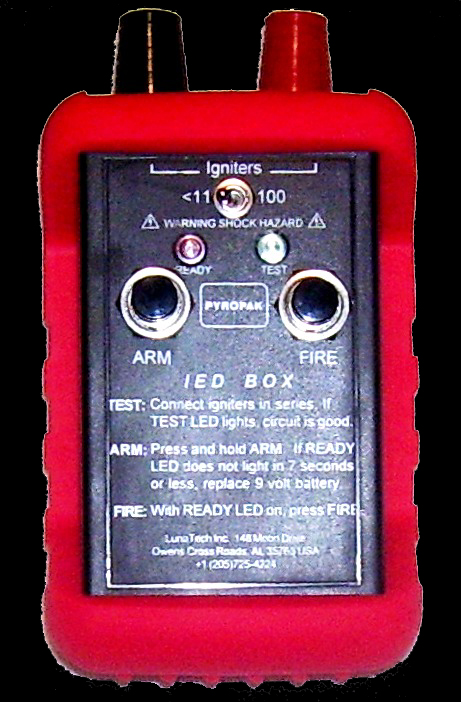 .
.
Target V - Universal alignment tool, mounts to anything. Originally manufactured for PermaPipe Inc. to allign rotary guides on a pipe insulation machine. Over 80 units were installed in a high debris environment.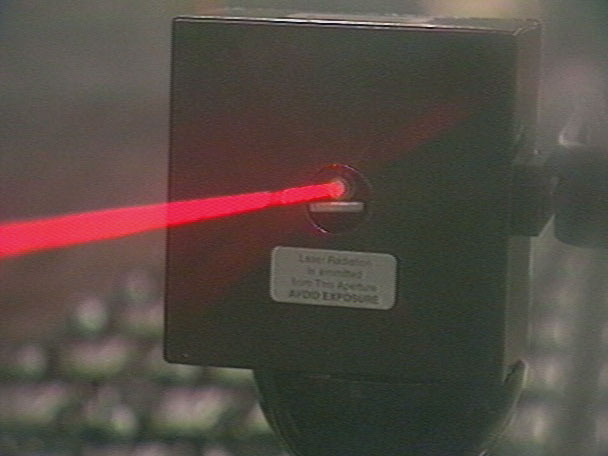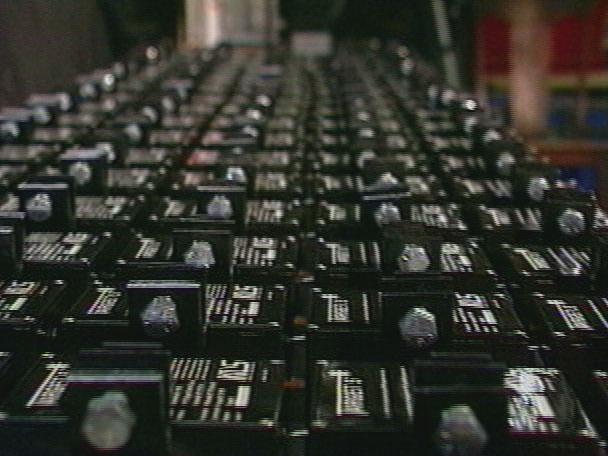 .
.
The Assistant - When radio communications are useless, this unit allows the remote mirror technician to silently communicate beam adjustments to the LSO beam focusing technician. Invaluable during sound checks or client rehearsals.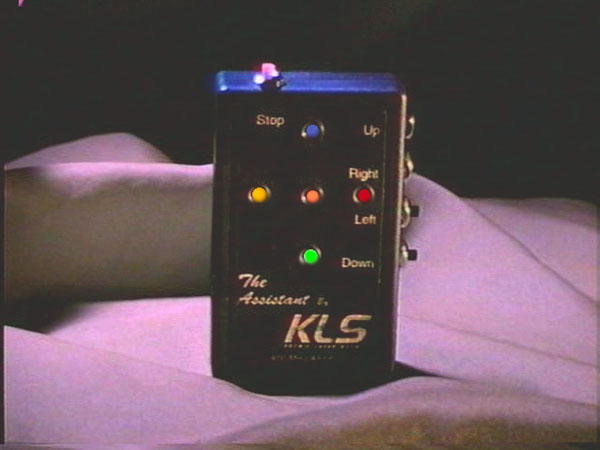 It was spawned from a show where a technician was in the catwalk focusing laser mirrors. The sound guy proceeded to envelope the arena with pink noise for the next twenty minutes. We sat helpless not being able to communicate via radios or visually, due to the darkness. It was during this time I sat and vowed that this could never happen again. Thus I came up with "The Assistant."
A technician can be in a catwalk or across the ballroom and press the Up (Blue=Sky), Down (Green=Grass), Right (Red=Right), Left (Yellow=Left), and Stop (Strobe) buttons to direct the other person doing the alignment. They can silently inform the other person which direction to move the beam, to hit the center of the mirror. The high output LED's are visible 200-300 feet away. We use it for assisting in laser mirror alignments, but it can be used in any application for positioning gear in a silent or noisy environment. $175.00 retail
.
KLS-30MW/T1- 30milliwatt HeNe laser, with universal breadboard mount and 100' remote control on a XLR.
.
.
KLS-T10 - Beam Table, Availible in 10,15 & 20 Positions. Half size versions available as well. 24ch control, 0-10 VDC D-25 Input. CDRH Complianant.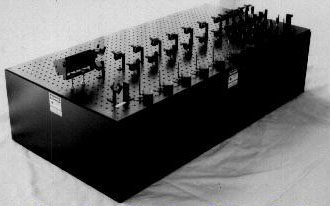 .
.
Desktop Controllers - Controls KLS Opto-Mechanical Devices. 15 position IR remote control for bringing up beam table positions (Left), Random Voltage Popcorn Generator for Sheet scanning (Middle), Laser Cone Generator (Right).
.
.
KLS-MM8 & MM4 - (20mm & 10mm) Bounce Mirrors Fully Adjustable X&Y
.
.
KLS-SSX - Sheet Scanner. Creates hoizontal sheets scans of light.