Wednesday December 4th, 2002
Piano drops, Nashville mayor and guitar legends drop in for celebration



Nashville Mayor Bill Purcell joined a group of legendary guitarists and other VIPs who stood in freezing temperatures on a downtown bridge last night (Dec. 3) to witness a helicopter dropping a grand piano, marking the grand opening of Gibson's new Valley Arts and Baldwin retail attractions in downtown Nashville.
Speaking to a pre-drop reception crowd that included Scotty Moore, Duane Eddy, Harold Bradley and Lee Roy Parnell, the mayor thanked Gibson chairman and CEO Henry Juszkiewicz and "the whole gang at Gibson for your commitment to music, commitment to these important and historic companies - the brands as well as the instruments they represent - and frankly, your commitment to Music City."
"This week," he added, "Nashville, Tennessee was listed in the 15 cities in America that were considered to have the hottest jobs and be the coolest communities, and if anybody had any doubt about that, they just need to be told about tonight."
Nashville Mayor Bill Purcell joked with Juszkiewicz that one of the reasons he had been invited was "in case a variety of federal, state and local officials surround you for what you're about to do, that I should in some way say that it's all right."

The mayor did, in fact, think it was all right, and then some. Walking with Juszkiewicz onto the Church St. bridge to view the drop, he quipped, "Not since I turned the 'Hot Doughnuts' light on at Krispy Kreme have I been so excited about an event." (Mayor Purcell once threw the switch at the grand opening of a Krispy Kreme doughnut shop.)
A helicopter approached and hooked a line to a grand piano sitting in a parking lot behind the new Baldwin Nashville Showcase. With music from Wagner's "Ride of the Valkyries" blasting in the background, the piano was lifted to a height of around 100 feet. Juszkiewicz counted down from 10 to 0, and the piano crashed to the ground.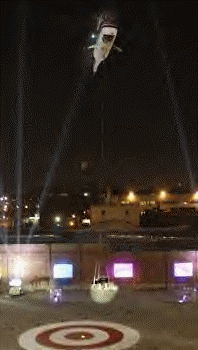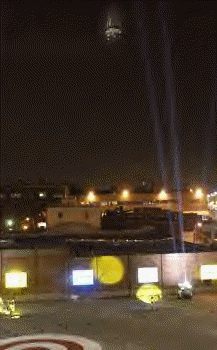 Pre-drop, in the parking lot of the new Baldwin Nashville Showcase.
Nashville's Union Station hotel is in the background.
The destruction of an old piano symbolized the end of an old era in the piano business and the beginning of a new one, represented by the new Baldwin Nashville Showcase.
Also known as the World's Largest Piano Store, the 24,000 square-foot facility features an elegant New York City décor and houses several hundred pianos, the D.H. Baldwin Academy for musical instruction, a children's play area and a full off-Broadway stage.
One facet of the new Baldwin era will be strong support of music education, and Juszkiewicz announced last night that Baldwin will be donating a piano to the East Nashville Center for Creative Arts.
The Valley Arts building houses a guitar store, the new manufacturing facilities for Valley Arts guitars (which Gibson has recently acquired) and Gibson's warranty and repair service.